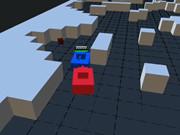 Battletanks
---
Description :
Do you want to prove that you are the best tanker? Compete with other players online! Collect all kinds of powerful props to destroy the enemy! The player who eventually survives will be the winner. You can use walls to avoid enemy attacks. In addition, you can customize the room to create a unique battlefield. Call your friends to join this fun game.
Keywords :
Tank, Shooting, Multiplayer, Killing, Kids, HTML5, Driving, Design, Collecting, Boy, Block, .io
Control :
WS to move. Mouse to aim or Shoot.
Author :
battletanks.app
---
Comments
Please login or register to post a comment