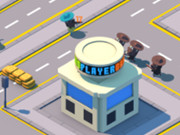 Cube City Wars
---
Description :
Cube City Wars is an interesting 2 player shooting game. On the computer, each player controls a person wearing a hat. Players use different weapons to shoot. Players can drive own car. There will be other enemies here, and yours may have to defeat them together. Collect the stars and other things. Have fun.
Keywords :
War, Shooting, Killing, HTML5, Highscore, Driving, Collecting, Car, Boy, Blood, 2 Player
Control :
Player 1:WASD = move, Spacebar = shoot, TAB = enter car, E = boost. Player 2: Arrows = move, L = shoot, O = enter car, K = boost.
Author :
twoplayergames.org
---
Comments
Please login or register to post a comment