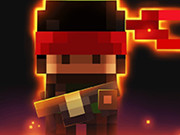 Gotia.io
---
Description :
Gotia.io is a multiplayer fight game. In the game, you are the strongest warrior! In addition to the scattered energy balls on the map, shields, and horses are available. Riding a horse can let you move agile, and shields can reduce damage. This excellent game will definitely bring you happiness. Share this game for your friends to play with.
Keywords :
Sword, PVP, Multiplayer, Killing, Kids, Horse, Highscore, Defense, Collecting, Boy, .io, HTML5
Control :
Mouse to move. Click to boost.
Author :
gotia.io
---
Comments
Please login or register to post a comment